Two holidays on one day. I know I'll get a trick played on me at some point. Will I know when it's happening? Probably not. One year my husband left a note on my new car saying it had been scratched and they couldn't wait around to talk to me about it. He kept a straight face while I freaked out and walked around the car several times becoming more upset and emotional as I began to notice every little ding and dent. Two years ago he told me to hurry to the back yard to help him wrangle a rattlesnake, when I got there, he asked me to shine a light on the side yard, and as I did he made a hissing sound and I screamed. The joke was on him when there really was a snake in the yard about one month later and I didn't believe him and ignored his calls for help.
Jokes and pranks aside, the kids are eagerly awaiting the arrival of the Easter Bunny and reading some scripture of Jesus and his resurrection. When I was a kid, we used to watch Jesus Christ Superstar after hunting for eggs and eating pancakes. I'd always try to collect the most eggs. My daughter seems to be following the same big-sisterly moves when it comes to egg hunting. It will be exciting to see how they act this year! I'm also wondering when it's appropriate to begin the tradition of Jesus Christ Superstar with my own kids. (Have you seen the sweet fashions and dance moves? Plus, the music is pretty darned good.)
We are still in the process of developing traditions. For now I'll take the time to bring the kiddos together for a portrait session. The kids spent some time playing in the desert in their finest outfits while I chased after them. By 5:45 they weren't in the mood to listen, well, my son wasn't. He kept running away from me and throwing rocks. To any parent who has had a child not want to participate in photos: it's normal. Eventually he listened after I started putting rocks on my head. He thought that was pretty hilarious. He began laughing, it also helped that Meemaw Mimi sent some candy and sister shared the jellybeans.
Happy Easter to you and yours! May you have a beautiful celebration.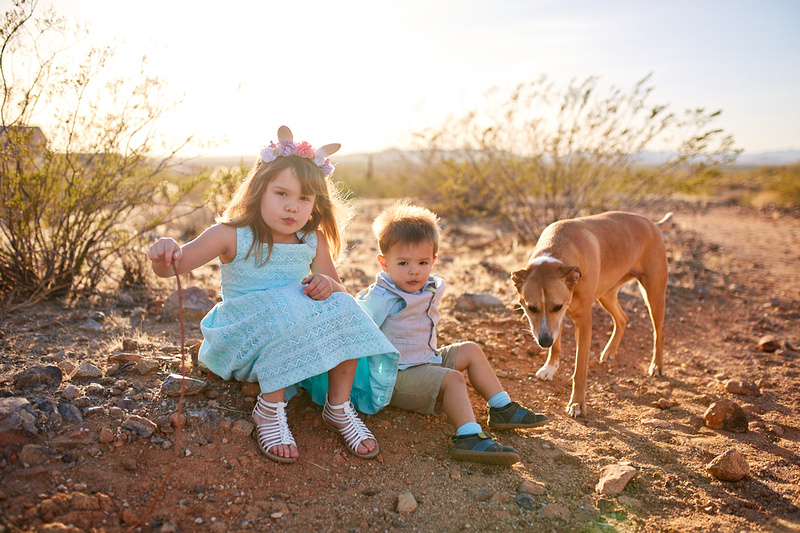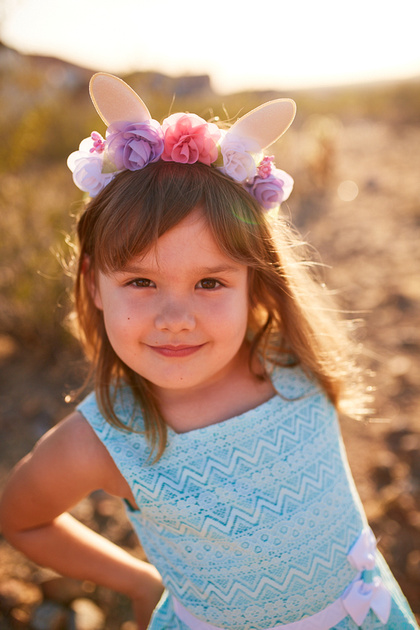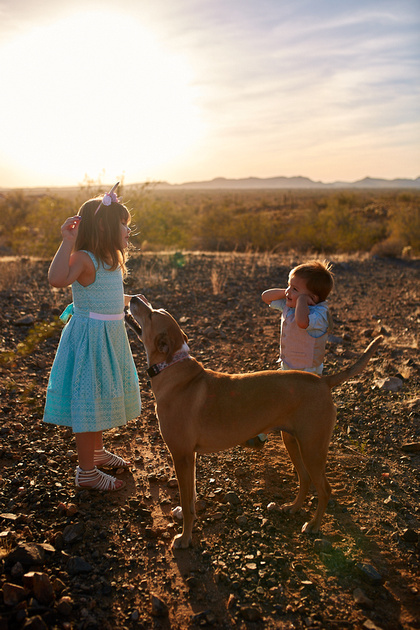 went to Daniela Jay (http://danielajay.com/), this awesome boutique around the neighborhood, and picked up a beautiful set of little bunny ears. They are absolutely precious. I also scored some adorable clothes for my daughter to wear for the summer. She's growing like a weed and I love having a fashionable resale store nearby. For anyone looking to book a session, the owner said she would give 20% off to customers who have their kids wear some of the items she sells during a photo session.