My family is happiest in the forest. When I need an escape from the heat of our beautiful desert, and the daily grind, I schedule a camping trip. This trip was different because we had a big group to enjoy the forest with.
Along for the ride were: Papa, Uncle D, Tio E, Tia M, Primo S, Prima K and sweet baby C. It was a reunion of sorts, because my aunt and uncle and their son and his family, had not seen my family since before the pandemic!
We followed my uncle to a new spot he had recently camped at. The forest was a brilliant green with wildflowers everywhere! This is an uncommon sight for an Arizona Forest in August. The past few years the forest has had a strict no-burn policy because of wildfires. We were so fortunate to have the luxury of a wood fire at our campsite.
The kids loved running around with their younger cousin. The boys followed M around and she enjoyed being the leader of the Primo Pack. They explored the area surrounding our campsite, swung each other in hammocks, and stole marshmallows from our kitchen tent. It was a joy to see the kids playing with one of their cousins.
My husband and I had a chance to get a dirt bike ride in together. I rode M's 80cc Yamaha even though it's a bit too small from me. We twisted through some single-track routes in the forest and came upon an old cabin. The cabin was likely from the 1920s or 1930s and despite its missing floorboards, windows, and doors, you could walk through it and wonder what the cabin looked like in the glory days of its existence. I thought about who lived, worked, and slept there. Who cared for the property and served the guests of this grand old building. Down the road from the structure was a tiny cabin with a bedroom, kitchen, bathroom and small porch. Was it a servant's corner? There were no plaques providing information other than "archaeological site" which was slightly disappointing.
Once we returned home, my dad sent me a link to a description of the Apache Maid Cabin. The home-site we were exploring is actually called T-Bar Ranch House. Both structures were wired for electricity and there appeared to be an old, rusty generator buried in sand. I look forward to returning to take more photos of the structure. When my husband and I were first dating, we would take our jeep out and explore ghost towns and abandoned homesteads.
One thing I did, which I am not accustomed to, was fire some weapons at targets. My cousin enjoys firearms, and brought a few along. When my family camps, we bring dirt bikes or mountain bikes, when other people camp, they bring firearms. I have mixed feelings about guns, I see why people enjoy them, but I think it is too easy for them to fall into the wrong hands. I see why people feel powerful when a gun is in their hands, but after all of the mass shootings, domestic violence murders, and living in fear of sending my children to school every day, or being gunned down while grocery-shopping, I become angry at the political bickering, and lack of regulation for such a dangerous tool.
Full-disclosure, with my husband being a veteran, my family has a few firearms of our own, but they stay locked up. Sometimes, I'm not sure why we have them, but there they sit, in the safe, waiting for… who knows? Anyway, my cousin loaded a handgun for me and showed me how to operate it. The elders made sure the kids were far away and not within range of the targets. I put on eye and ear protection and aimed at a few cans we had lined up against a bluff. My heart pounded in my ears as I rose my arms and clutched the trigger. I steadied myself, aimed and fired. The kickback wasn't too bad, and I fired off 10 rounds. OK, I get it. That's a hell of a feeling. My adrenaline was running high. Wow. When I was done, I thanked my cousin for providing me with the tutorial and ammunition, and my aunt stepped up to pop off a few rounds.
The last evening of our trip, I set up my tripod in a southwest-facing meadow to try some light-painting and star trails. My uncle came over to gaze at the stars, and he and I were blessed with witnessing one of the most beautiful, bright comets streak across the sky! It felt like a little nod from the heavens and we felt fortunate to have seen it. I will cherish that shared moment.
Throughout the rest of that evening, my cousin and uncle blasted music and talked around the fire. By the time I went to bed, there was no room left for me to sleep, so I ended up sleeping in the back of the Subie, which was surprisingly comfortable and quiet. I pulled the sunroof cover open, and gazed at the stars until I fell asleep.
In the morning we were treated to a culinary delight prepared by Uncle D. Chorizo, eggs, veggies and big tortillas to bundle the meal up in. A perfect breakfast to prepare us for the tasks ahead. Breaking down camp is never fun, but we packed up before large storm clouds overtook our camp.
Thank you for a wild and interesting trip!
These Viejitos used to load up their backpacks and hike to Phantom Ranch, Havasupai and backpack in the Superstition Mountains in the 80s and early 90s. Here they are, in their 60s and 70s, still enjoying nature and tents with their kids and grandkids. LOVE!
Sweet, old, Sheba getting loves from Kind Katherine.
Cruz is one handsome little boy. What a sweetheart!
Papa is the best for joining us on this trip.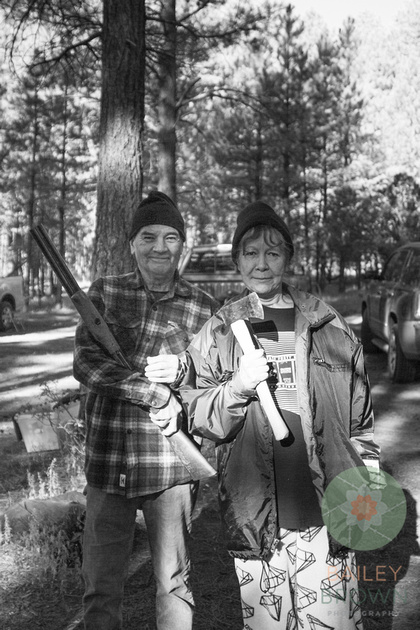 It was hilarious to see my Tio and Tia with a shotgun and axe. They were out collecting firewood, and hunting for wild turkeys.
My goodness, these dogs were SO dirty. Mud everywhere. Cody and Sheba were covered in it. Mimi steered clear from the water. Thanks Mimi!
Mother and son, as one?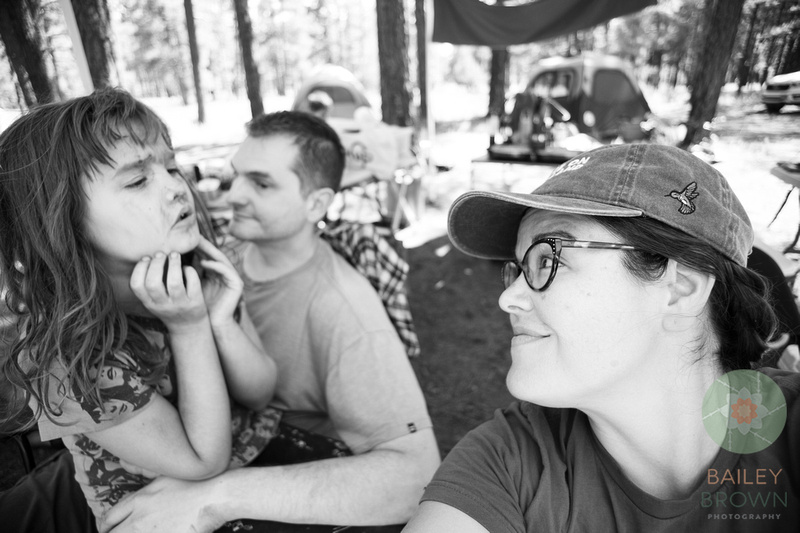 "Burn baby, BURN!" - Uncle D
I can't wait to see you again, gorgeous Milky Way!